Course
This par 72 traditional course layout features lush fairways, over 1500 mature trees, well-manicured greens, and three strategically positioned lakes. The desert-framed golf course is the longest in Arizona at 7,545 yards and is adjustable to 5,200 to make it both challenging and fun for all skill levels. In fact, the course is one of the few that overseeds fairways, tees, greens, rough, and public areas that total over 188 acres.
The championship golf course and practice areas were beautifully restored by Scottsdale based, In Celebration of Golf. The Resort provides a perfect setting to hone your skills with our large driving range, chipping greens with bunkers, and undulating putting greens.
With over $8.5 million dollars in renovation, Francisco Grande Hotel and Golf Resort is an ideal place to hold tournaments, outings, conferences, conventions, and corporate events. The resort offers 107 large guest rooms and spacious suites with golf-course, poolside, or garden views. Each room has been refurbished in captivating detail, including custom-designed imported carpets, original art works, and charming antiques. Gracious amenities such as granite countertops make Francisco Grande attractive to the vacationer, conventioneer and business traveler alike.
Designed by: Ralph Plummer
Plummer is known for the attractiveness of his layouts and for his remarkable ability to shape greens and bunkers by the eye. His portfolio includes Shady Oaks Country Club, home of famed golfer Ben Hogan, The Colonial Country Club in Forth Worth, Texas, and Tryall Golf Club in Jamaica.
Signature Hole: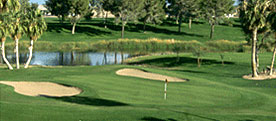 Signature Hole is # 3 – a two-tiered elevated tee that varies in distance from 152 to 193 yards. Proper club selection is required since the pear shaped green is guarded by bunkers and errant shots will also find the water.